Origins of Rising Sun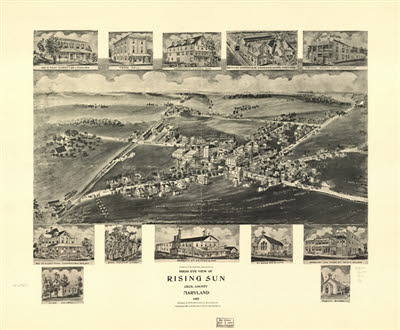 From its crossroads genesis in the 1720s until the
Mason-Dixon line
was established, the town now known as Rising Sun was actually located in Chester County Pennsylvania. The taxes were paid in West Chester, Pennsylvania, and all the early deeds and records are still recorded there. The town occupied part of what were the controversial "
Nottingham Lots
" claimed by
William Penn
and given to his
Quaker
friends in 1702 over the vigorous objection of
Maryland
's
Calverts
. Messrs. Mason and Dixon settled the dispute by determining that the area in question was indeed a part of Maryland.
Records show that, around 1720, Henry Reynolds established a stone tavern on Nottingham Lot No. 17 to serve as a stage stop. Over the entrance was a swinging sign depicting the rays of the sun at dawn and the lettering THE RISING SUN. It was around this busy tavern that the village of Summer Hill began to grow.
Located along the direct route between Baltimore and Philadelphia, the tavern enjoyed growth in its popularity as a meeting place for business deals, political maneuvering, elections, and sundry other activities. Travelers and locals alike adopted the habit of saying "We'll meet at The Rising Sun." The phrase was so entrenched by the time the town's first post office was established around 1815, that Summer Hill yielded to Rising Sun as the official name of the place. It is likely that the post office was actually located in the tavern.
Soon after the town's incorporation in 1860, the commissioners constructed slate sidewalks, erected coal-oil street lamps, and hired a lamplighter, who doubled as bailiff and street maintenance man. Six years later, the
Baltimore Central Railroad
began to serve Rising Sun, and the pace of growth accelerated. Most of the town's current structure has been built since then.
· German - 20%
· Irish - 16%
· English - 8%
· Italian - 6%
· Dutch - 6%
· Polish - 4%
· French (except Basque) - 4%
· Scotch-Irish - 3%
· Scottish - 2%
· Welsh - 1%
· Finnish - 1%
· Swedish - 1%
· Black or African American - 1%
More Information
Find content and services related to this page.