Police Department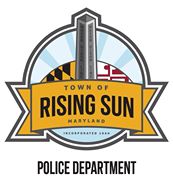 MISSION STATEMENT
To the Residents, Businesses and Elected Officials of the Town of Rising Sun, we the members of the Rising Sun Police Department, are committed to excellence in law enforcement and are dedicated to the people, traditions and diversity of our Town. In order to protect life and property, prevent crime and reduce the fear of crime, we will provide service with understanding, response with compassion; performance with integrity and law enforcement with vision. The Rising Sun Police Department will strive to maintain the highest standards of excellence utilizing training and technology to create a safe environment for citizens and continue as a leader in law enforcement. The Core Values of our Department are built upon four (4) princibles:
Service
Providing excellent quality service to the community is our primary duty. We are committed to faithfully and selflessly performing our duties while striving to be responsive, effective, and dependable. We are dedicated to enhancing public safety and reducing the fear and the incidence of crime. The motto "To Protect and to Serve" is not just a slogan - it is our way of life. We will work in partnership with the people in our community to solve problems that effect public safety and the quality of life in our community. We are dedicated to working in partnership with the public to achieve our goal of making our community a safe and inviting place.
Integrity
Integrity is our standard and a cornerstone of our profession. We are proud of our profession and will conduct ourselves in a manner that merits the respect of all people. We commit ourselves to elevated standards of trust, responsibility, and discipline while promoting justice in a fair and impartial manner. We believe in conducting ourselves ethically and professionally, with the highest degree of honesty and accountability and pledge to hold ourselves to the highest legal, moral, and ethical standards. We value our integrity and commit ourselves to strive for personal and professional excellence. We will endeavor to make the right decisions for the right reasons and to ensure that our actions match our words. In the face of difficulty, we must always choose the harder right over the easier wrong. We recognize that each of us represents not only our Department but also the law enforcement profession and government in general. We acknowledge and accept that our individual conduct, both on and off duty, must be beyond reproach - our conduct is the same, even when no one is watching.
Courage
Courage is that quality of mind and spirit that enables us to confront and overcome the challenges of danger and adversity without fear of personal consequences. Courage is bravery, and bravery gives us strength not only to do something, but to do something right. Our courage derives from our commitment to training, education, and trust in one another. We recognize the hazards inherent in our profession and are willing to place the safety of others above that of ourselves. We shall not hesitate to step forward and protect those who cannot protect themselves. We must have the courage to stand up for what we believe is right and to have the courage to admit when we are wrong. We proudly serve with the courage necessary to meet the demands of our profession and the mission for which we are entrusted.
Professionalism
Professional service is embodied in our commitment to proficiency, competency, reliability, and excellence in all aspects of our conduct and performance. We believe in the social value of our work, considering it to be among the most noble of vocations, deriving personal satisfaction from the effective performance of our duties. We reject complacency and are dedicated to continually pursuing the highest levels of knowledge, skills, and expertise. Our actions are guided by the Law Enforcement Code of Conduct. We value the diversity of people in our community and will serve all with equal dedication, respect, fairness, and compassion. We believe in the selfless virtue of placing duty before self with the willingness to accept personal sacrifice for the greater good. We proudly pledge to fulfill our mission by being accountable to our community, our Department, and to each other.
To those ends, we pledge our continued committment to ensure the Peace and Harmony of our community and the Quality of Life for all. If at any time you should have question or need the assistance of the Police Department you can contact Chief Peterson or any member of the Police Department for assistance.

For more information on the daily activities and events of our police department check
The members of the Rising Sun Police Department are committed to achieving professionalism in every facet of our operation and maintaining only the highest level of personal integrity. You can help the department by giving us the opportunity to answer your questions and investigate your complaints. Each member of the department shares this idea and it is the primary function of the Internal Affairs Section.
Complaints can be filed by telephone (410-658-4101), email (chiefpeterson@risingsunmd.org) or conventional mail (1 East Main Street, Rising Sun, MD 21911).
You must provide your name, mailing address and phone number or email address if you would like to be notified of the outcome of the investigation.
You will receive a response within 72 hours of filing your complaint.
You will receive an update within 30 days and each month after if the investigation is still ongoing.
You will be advised of the outcome of the investigation within 72 hours after disposition including the discipline imposed.
Complaints to the Cecil County Police Accountability Board can be submitted at the following link: https://ccgovapp.org/PAB/Agency?AgencyId=6
In this Department

Department Home
PERSONAL NOTES & BIOGRAPHIES
More Information
Find content and services related to this page.